Weekdays, Opening until
5:00 PM
$4.50 Per Person, Per Game


Nights, Weekends, & Holidays
$3.00 Shoe Rental
$5.00 Per Person, Per Game

Daily Special
$14.00 Per Person (Save $4)
Thursday Night Special
Unlimited Bowling
Every Thursday
8:00 PM - 1:00 AM
$6 per person
What is "Cosmic Bowling"?
COSMIC Bowling is glow-in-the-dark bowling with a dance club atmosphere! Cosmic Bowling has a light show, fog machine, and great music! It's perfect for family fun and it is kid friendly! Saturday nights before the COSMIC starts, you can have fun with Karaoke in our sports grill!

COSMIC BOWLING
Friday & Saturday Nights
11:00 PM - 2:00 AM
$13 per person
$3.00 shoe rental
*Note: At least four different lanes must do the cosmic bowling special in order for the cosmic lights to start.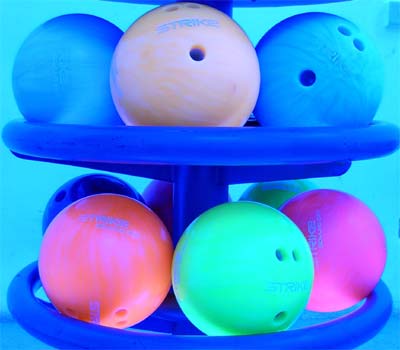 Prices do not include tax. DeLuna Lanes has the right to change prices at anytime without notice. All game prices are charged as per person per game.
© 2015 PBA Enterprises Incorporated. All Rights Reserved.